Importance of subject glossary in translation
Subject glossary is one of the important tools for translation. Translators often use a dictionary, a thesaurus to find the correct equivalent for a word.
When translating academic content, one faces peculiar challenges of context and consistency. A chosen equivalent must be prevailing in the context of that subject. Also the same equivalent needs to be used throughout the book. ………Read More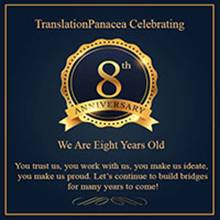 For Our Clients!
With 4 years of doing somthing innovative, TranslationPanacea was able to deliver some value to our clients. Based on the appreciation, feedback and testimonials, we can now say that our clients are happy that:
1]They can concentrate on their core activity – be it a publishing company, a media company or a software or application developer, or a marketing consultant, or a corporate communications department of a corporate; associated with TranslationPanacea, they can focus on their own core activity and leave the language part to us.
2]They save time and efforts – This is true for all clients, however, it benefits the publishers the most, as the turnaround time and quality is assured, and more titles means more sale and more revenue ........ Read More
अवांतर : श्वास, स्वभाव आणि प्रकृती
तुम्ही श्वास घेता काॽ
असा प्रश्न तुम्हाला कुणी विचारलाय काॽ विचारलाच कधी तर तुम्ही नक्कीच त्या माणसाला वेड्यात काढाल.साहजिकच आहे ना! जन्मापासून मरेपर्यंत अगदी अविरतपणे केली जाते अशी एकच तर गोष्ट आहे, ती म्हणजे श्वास घेणं.इतकी स्वाभाविक असते ही क्रिया. पण खरंच तिच्याबद्दल आपल्याला काय आणि किती माहीत असतंॽ
…… Read More
Introduction of the month
This month, meet Ms Aarti Deshpande, a trusted team member of TranslationPanacea.

How did you start translation?
While working as a freelance journalist, I got to know about this new kind of profession. I started working as a freelance translator and did commercial translations for many years... Read More